Sat Apr 27, 2013, 06:20 AM
xchrom (108,903 posts)
Canadian oil minister Joe Oliver condemns climatologist James Hansen
http://www.guardian.co.uk/environment/2013/apr/24/canada-joe-oliver-attack-james-hansen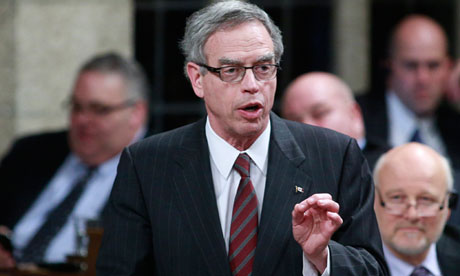 Joe Oliver, Canada's minister of natural resources, called James Hansen's views 'frankly nonsense'. Photograph: Blair Gable/REUTERS
Canada's natural resources minister, Joe Oliver, rarely bothers to hide his dislike for critics of the country's carbon-heavy tar sands or the controversial Keystone XL pipeline.
But it still came as a surprise to hear Oliver lash out at one of America's pre-eminent scientists, climatologist James Hansen, during a visit to Washington DC.
Oliver was in Washington on one of the now-frequent visits by Canadian politicians to try to build support for the pipeline.
The charm offensive evidently did not apply to Hansen. In remarks made at a Washington thinktank, Oliver said Hansen should be "ashamed" of his opposition to the Keystone XL pipeline, and for warning that exploitation of the carbon-heavy tar sands would drive climate change past a point of no return
2 replies, 732 views
Replies to this discussion thread
| | | | |
| --- | --- | --- | --- |
| 2 replies | Author | Time | Post |
| Canadian oil minister Joe Oliver condemns climatologist James Hansen (Original post) | xchrom | Apr 2013 | OP |
| | polly7 | Apr 2013 | #1 |
| | gejohnston | Apr 2013 | #2 |
---
Response to xchrom (Original post)
Sat Apr 27, 2013, 09:45 AM
polly7 (20,582 posts)
1. * that lying Joe Oliver.
This is part of that open letter on the gov't website.
These groups threaten to hijack our regulatory system to achieve their radical ideological agenda. They seek to exploit any loophole they can find, stacking public hearings with bodies to ensure that delays kill good projects. They use funding from foreign special interest groups to undermine Canada's national economic interest. They attract jet-setting celebrities with some of the largest personal carbon footprints in the world to lecture Canadians not to develop our natural resources. Finally, if all other avenues have failed, they will take a quintessential American approach: sue everyone and anyone to delay the project even further. They do this because they know it can work. It works because it helps them to achieve their ultimate objective: delay a project to the point it becomes economically unviable.
"An investment banker with Merrill Lynch who later became the Executive Director of the Ontario Securities Commission, also named the CEO of the Investment Dealers Association of Canada." Who to believe on environmental issues - a failed investment banker turned aggressively ignorant politician or a renowned NASA climatologist with decades of proven experience.
---
Response to polly7 (Reply #1)
Sat Apr 27, 2013, 10:33 AM
gejohnston (17,502 posts)
2. the choice is obvious
and I'm guessing Oliver owns stock in these ventures.