Sat Apr 27, 2013, 06:25 AM
xchrom (108,903 posts)
Has the MMR debacle immunised the media against other scare stories?
http://www.guardian.co.uk/science/2013/apr/26/mmr-debacle-immunised-media-scare-stories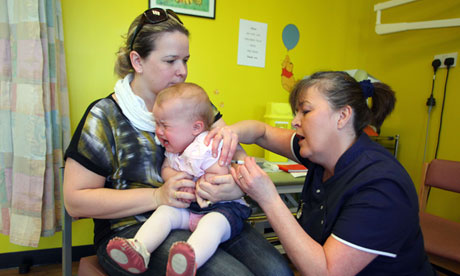 Not even Andrew Wakefield can be held responsible for the false impression given by the media that doctors were split over the safety of the jab. Photograph: AFP/Getty
When Jeremy Paxman this week apologised to MMR experts on Newsnight for the shameful role played by parts of the media in the MMR crisis, he joined a chorus of soul searching over who is to blame for the ongoing measles outbreak and whether an unfounded scare story with such far-reaching consequences would get so much media attention today.
While many, like Paxman, blame the media for giving disproportionate coverage to a small study and a maverick doctor, others blame the government for bullying parents into using the combined jab and demonising Wakefield.
Others will never forgive the Lancet. I was reminded of this when questioned on the story by Lord Leveson (in the course of his inquiry into the practices of the British press), who was keen to impress on me that the media reported the claim only after a respected peer-reviewed scientific journal had published it.
For my part I can think of few players in this saga who should not indulge in a little critical self-reflection, but if I have to choose a culprit mine would be the media's serious addiction to amplified debate and controversy in the name of the principle of "journalistic balance". There is much to criticise Wakefield for, but not even he can be held responsible for the completely false impression that medical science was split down the middle on the safety of the jab. Surveys show that is what the public believed.
1 replies, 844 views
Replies to this discussion thread
| | | | |
| --- | --- | --- | --- |
| 1 replies | Author | Time | Post |
| Has the MMR debacle immunised the media against other scare stories? (Original post) | xchrom | Apr 2013 | OP |
| | longship | Apr 2013 | #1 |
---
Response to xchrom (Original post)
Sat Apr 27, 2013, 07:07 AM
longship (40,416 posts)
1. But it was Wakefield's flagrantly fraudulent research that was the lynchpin.
And, in spite of Wakefield being struck off the rolls in the UK, it hasn't stopped him from continuing his damage here in the USA where he's found support from anti-vaccine lunatics like Jenny "I love Botox" McCarthy, her boyfriend Jim Carrey, and their ilk.

At least the Lancet finally did the right thing and withdrew Wakefield's paper. Unfortunately, the damage had already been done.