Sat Apr 27, 2013, 05:52 AM
byronius (6,618 posts)
The Nature Of My Primate.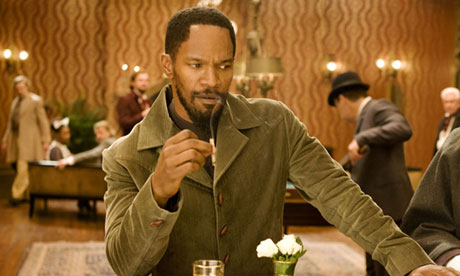 Quentin and I are good friends, in a way. I have watched every single one of his films; some twice, some three times, and some more than that. The Kill Bills, for instance. What beautiful works of art they are. I truly respect the fellow, as an artist. He grows.
I've just been very, very busy. I wanted to see Django Unchained in the theater; alas, I rented it from a Redbox.
Quentin's been studying my psyche, you see. This time, he found all my buttons, evey one of them, and pushed them over and over. I learned a great deal about myself tonight, thank you, Quentin.
Two bits o' background:
Me, ten years old, sticking my head into an oven at Dachau, and seeing the black human soot coating its steel sides.
Me, thirteen years old, watching a slide show about the history of slavery in Mrs. Klimko's class. She shows us a modern photo of a black man who had been chained to a tree and blowtorched to death, somewhere in the South during the fifties.
Now, these experiences, others to be sure yes, but these two experiences -- they are me. They shaped my intellect, my emotional being, and most importantly, my Primate.
I've got a reasonably large Primate. Oh, certainly, there's German involved, and Welsh, but there's also a great deal of paternal abuse and unresolved Buzzy Holzer/Mike Sullivan insecurity issues carving out enormous channels through my impoverished spirit. My Primate tends to tremble a lot; I have anger problems. Eh. So do we all, so do we all.
Ah, Quentin. I discovered, through his work on this wonderful fucking movie, that there is almost nothing in the world I love more than watching slave-owners and slave-whippers and slave-haters get shot. Shot and blown up, and their bits scattered to the breeze. My Primate immediately began to shake his heavy chains, and roar with glee, and call for more, always more.
My Primate also loves George Patton, you know. Oh, he slapped a soldier, and that was incorrect behavior for any officer of the United States Army, an institution I love. But the Nazis feared him more than any other general, honestly and truly feared facing this man down in their very programming, and my Primate deeply, deeply loves George Patton for that very reason. My Primate hates Nazis, and therefore truly enjoyed Inglorious Basterds each of the many times I watched it. A lovely, lovely film for my Primate.
But now. Holy cow. I was set up and knocked down, over and over, and my Primate giddily squealed with delight every time one of those Southern bastards exploded into a misty human spray of copper-scented revenge. Quentin reached down inside my RageBoy and tickled him, played with him, and fed him the most delicious Primal chocolate ever. Damn, did Quentin peg me. So much so, that at very end of the film, I found myself sending out a crackling message throughout human reality, an actual Bolt Of Will that flew out from me to reach around the world and strike fear into every single last oppressive soul with a warriorific shout: 'The Meek Shall Inherit The Earth'.
By which I mean, all cages open, all creatures free, all violence met with destruction, all dominance met with extinction. It was a moment of pure Primal expression, brought about by the careful machinations of the Storyteller and his Minions. Oh, certainly not logical, or even perhaps real outside the confines of my DNA-designed German/Welsh skull. Nonetheless, I was changed, and brought to understand myself better, and that means one thing and one thing only: Good Art.
Thanks, Quentin. Goddamn. I am a Primal Violin, sir, and you are the fucking Maestro, stoking the Meek, clarifying the Path Of Inheritance. My Primate loves you for it, and is tonight barely unable to be contained within his heavy tungsten links. Shaking those chains. Shaking those Primate chains.
I wonder how many times I'll watch this one. Rattle, rattle.
0 replies, 581 views