Thu Jul 9, 2020, 11:17 PM
Celerity (12,814 posts)
Trump Gave CIA Secrets To Putin And There's Nothing We Can Do About It
Trump handed over counterterrorism secrets to a hostile foreign government that attacked our elections and continues to attack our elections today.
https://thebanter.substack.com/p/trump-gave-cia-secrets-to-putin-and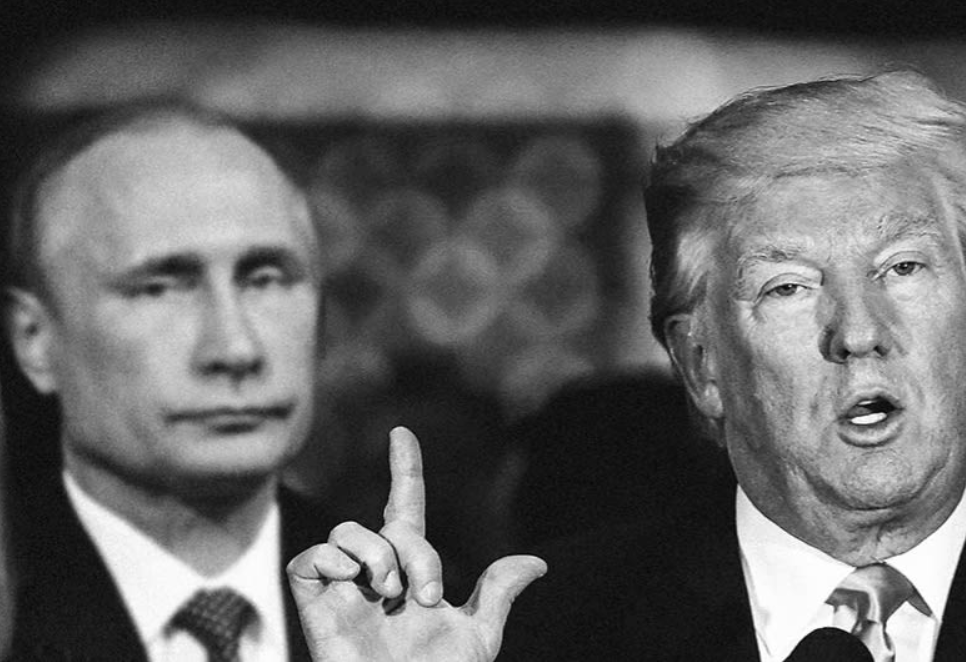 WASHINGTON, DC -- Since the beginning of the Trump Crisis, we've talked about the firehose of news, and how the vast laundry list of horrible deeds committed by the president have turned out to be too much for the people and the press to keep up with, making it nearly impossible to hold him accountable for all the things that would have otherwise destroyed previous chief executives. There's also the prophylactic benefit of having a subservient attorney general who's willing to kill investigations and prosecutions of the president and his various henchmen. Having Bill Barr around certainly helps Trump, but indeed his presence is, itself, another item ejaculated out of the firehose of news. In normal times, Barr would be impeached for shielding Trump, and Trump would be further scrutinized for obstructing justice via Barr. Among the other contents of the firehose, there are two major foreign policy stories in the past week or so that ought to be impeachable offenses, or, at the very least, the subjects of national security investigations by the FBI into Donald Trump's unwavering fealty to Russia and its dictator, Vladimir Putin. A little more than a year ago, by the way, news about the alleged "counterintelligence investigation" into Trump's relationship with Russia more or less disappeared.
Adam Schiff and other House investigators were mostly left wondering what happened, but, returning to Barr for a second, it's obvious that the attorney general canceled the investigation somehow. It's part of Barr's mandate, and so he's erased several Trump-related investigations, including, in all likelihood, this one. And so, this is the context, more or less, for two Russia related national security stories in recent days. First, we all read about how Putin was paying Taliban fighters around $100,000 per American soldier killed in Afghanistan. Trump predictably did nothing. In fact, he claimed to have not been briefed about it despite reports that he was absolutely briefed, yet didn't personally believe the intelligence was actionable. So, no response, publicly or privately, aimed at Russia. No new sanctions, no warnings -- nothing. Even if Trump were telling the truth, and it's almost certain he's not -- he never does -- he should have at least issued a written statement warning Putin to stay away from that theater. But again, nothing. Meanwhile, according to
a bombshell new report
published by Just Security, Trump "decided not to confront Putin about supplying arms" to the Taliban. In other words, Trump was informed at some point that Putin was arming the Afghan militants, and, again, did nothing about it. Not even a side-eye. On top of that, journalist Ryan Goodman reports that Trump secretly "directed the CIA to share intelligence information on counterterrorism with the Kremlin despite no discernible reward."
Trump literally handed over counterterrorism secrets to a hostile foreign government that not only attacked our elections in 2016 and continues to attack our elections today, but also a government that put bounties on the heads of American soldiers. The first question I'd like to have answers to is whether any of the intelligence Trump gifted to Putin was exploited to attack our troops in the field. With this president, it wouldn't shock me if we were to learn that was the case, but we don't know for sure. Nevertheless, it's just a detail in a broader narrative about an American president who's quite obviously owned by the Kremlin. There are several theories about why. First, Putin could be holding embarrassing, compromising information on Trump, essentially blackmailing him into subservience. This could involve sex or other personally damaging materials. Second, and related to possible kompromat, is the theory that Trump is engaged in felonious activity with Russian oligarchs, perhaps money laundering or some other finance-related scheme. Third, it could be that Trump is motivated to appease Putin because the president wants to move forward with Trump Tower Moscow. My guess? It's all three. Trump is up to his bulbous ass in Russia, including myriad dubious contacts with Russian operatives during the Russian attack in 2016 on top of a series of unreported calls with Putin himself. Regardless of why the president is prioritizing Russian interests over American ones, the fact remains that he's doing it. It's as obvious as Trump's dandy-ish face makeup.
The real question is whether anything can be done about it, and as of now, the answer is a profoundly frustrating "nope." It's too close to an election for impeachment. Bill Barr won't investigate Trump. And there's no chance of Mike Pence leading a 25th Amendment remedy. All that's left is the election, and if Russia and other voter suppression tactics win the day, Trump will have four more years without any real accountability -- no elections or anything else. He'll be unstoppable. The lesson here is that the president -- any president -- is capable of subverting American national security at his own discretion, and there's practically nothing we can do about it. As long as there are a thousand different crimes and other episodes of indecency flooding out of the White House, no single event can be addressed in any significant or meaningful way. Not even an impeachment for confessed cheating in the 2020 election could pry this crook from his underground bunker. The presidency has grown far beyond its constitutional strictures and therefore must be yanked back to a more accountable place. Hopefully there will be the political will during the next administration, be it next year or whenever, to propose a slate of new laws or even the ratification of new constitutional amendments to close all of the loopholes Trump has exposed. Even if Trump loses in November, there will be tons of heavy lifting to do. On the bright side, as long as he doesn't destroy us in the meantime, the Trump Crisis could lead to positive and mandatory changes to Article II powers. It's up to us.
6 replies, 872 views
Replies to this discussion thread
| | | | |
| --- | --- | --- | --- |
| 6 replies | Author | Time | Post |
| Trump Gave CIA Secrets To Putin And There's Nothing We Can Do About It (Original post) | Celerity | Jul 9 | OP |
| | Wellstone ruled | Jul 9 | #1 |
| | Hoyt | Jul 9 | #2 |
| | davekriss | Jul 9 | #3 |
| | Guilded Lilly | Jul 9 | #4 |
| | stonecutter357 | Jul 10 | #5 |
| | Celerity | Jul 10 | #6 |
---
Response to Celerity (Original post)
Thu Jul 9, 2020, 11:33 PM
Wellstone ruled (32,000 posts)
1. Was the Flash Drive given to the Russian
Ambassador during his visit to the Oval? As well as the gift of a special encrypted phone from Vlad?
---
Response to Celerity (Original post)
Thu Jul 9, 2020, 11:35 PM
Hoyt (44,565 posts)
2. Sure there is. Reckoning comes Nov 3.
---
Response to Celerity (Original post)
Thu Jul 9, 2020, 11:39 PM
davekriss (3,644 posts)
3. FUBAR
President Biden will have to assume that Putin knows everything down to the launch codes of our aging ICBM. He will have to rebuild it all (after he gets all the toadies out of the agencies).
---
Response to Celerity (Original post)
Thu Jul 9, 2020, 11:42 PM
Guilded Lilly (4,376 posts)
4. So treason doesn't matter at all in our country? How great we aren't.
---
Response to Celerity (Original post)
Fri Jul 10, 2020, 12:30 AM
stonecutter357 (11,897 posts)
5. There's Nothing We Can Do About It... that is the stupidest thing i've ever heard on DU
FUCK that
---
Response to stonecutter357 (Reply #5)
Fri Jul 10, 2020, 11:46 AM
Celerity (12,814 posts)
6. Atm, there is nothing that can be done. Vote him out in November
is pretty much the only option.

If you have something that can be done before that, by all means, do share.